This band has not uploaded any videos
This band has not uploaded any videos
The best kept secret in music
---
"Punk's Not Dead, It's Dead By Monday"
"Do you remember Rock N Roll? Not Emo punk, or Nu-metal, or the Garage Rock Revival(tm)? Not the flavor of the month, impecabley styled, homogenized, pasteurized, distilled and diluted drivel that passes for rock music nowadays? I'm willing to guess that you don't. You certainly aren't alone. To refresh your drug, alcohol, and pop music addled memories, I suggest Dead By Monday.

I was exposed to these gentlemen through a mutual friend, and have booked them several times since our introduction. Simply put, there is no better way to bring back the feelings of adrenaline and angst that lurks in anyone who happens to posses a soul, than good ole punk and roll.

Being a musician myself, I have witnessed and partook in shoe gazing bands with absolutely no chemistry. Yes, i admit it. Dead By Monday jump, yell, and spit in the face of those who relish the term "Musician" or worse yet "Artist" but fail to comprehend the term "Performer".

Perhaps that's why i'm a fan of DBM: not only are they musicians, playing a style of music with a fervor and ferocity that i thought my generation had lost to the drivel of Limp Bizkit and the oh-so-heartwrenching sounds of whatever emo-pop-punk-core group is currently on the radio/13-year-old-girl's-walls, they are entertainers who truly love what they're doing.

There was a time when standing in the front row at a concert meant getting smashed into, getting spat and sweated on, and getting a good look at the tonsils of the lead singer. Dead By Monday isn't a nostalgia trip: they are a return to form. Simultaneously, they are a breath of fresh air into the music scene's stagnant stench of copy-catism and flavor of the month, nay, minute, mentality.

If punk's not dead, it's Dead By Monday."
-chris dencker
- Vital Source
---
"Dead By Monday"
"I'm tempted to call Dead by Monday's style 'the blues-ier side of garage rock,' but who needs these silly labels anyway? DBM sing about heartbreaking, debauchery, letting go – AKA that devilish 'sex, drugs, and rock 'n' roll.' They feature a creative 'one-take' rhythm section, with the lead guitar adding tasty morsels of blues, country, even surf music. If we must label...this is Rock with a capital 'R'!!"

- G.E. Pedretti
http://www.tiptopsound.com - Tip Top Sound
---
The Scary Gary Demos (2004)
Self-Titled Full Length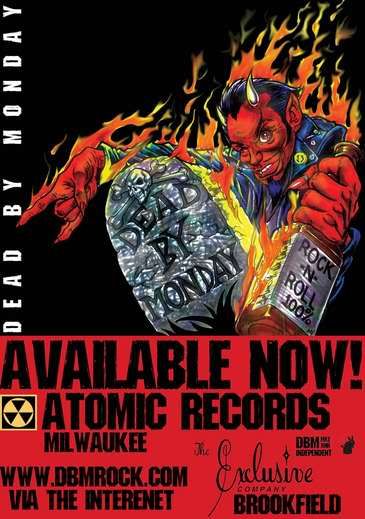 Bio
Dead By Monday follows the footsteps of classic rock and roll artists ranging from the Rolling Stones, AC/DC, Johnny Cash, Iggy Pop & the Stooges, Murder City Devils, Electric Frankenstein, and the Supersuckers. DBM is a perfect opener for any rock and roll, punk rock, or blues act.
---
Links